All About Flavor
Embracing Herbs and Spices
While mint may be the most famous herb used in cocktails , thanks in part to the prevalence of drinks like the mojito and mint julep, the world of herbs and spices offers a wealth of complex and interesting flavors for cocktail makers to embrace.
Whether you're muddling jalapeños in your margarita to kick it up a notch or infusing honey syrup with a touch of ginger, the possibilities for experimentation and exploration are endless. Let's take a look at some tasty tips to get you started.
FRESHNESS COUNTS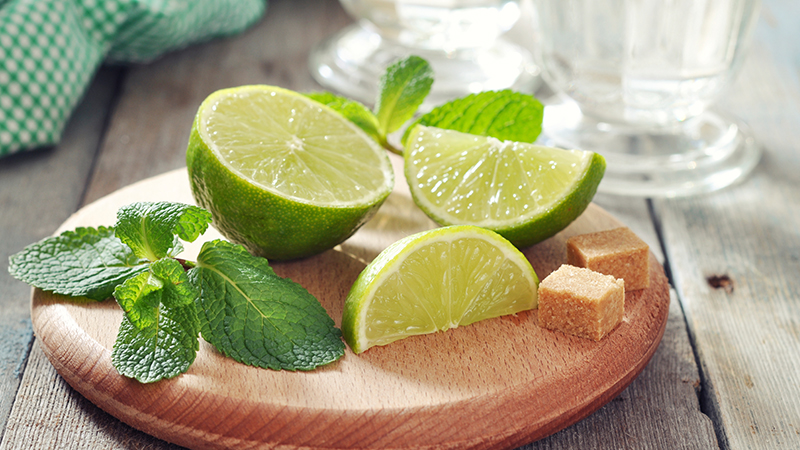 When it comes to cocktail ingredients of all kinds, fresher is always better. And herbs and spices are no exception. Whenever possible, skip the dry goods aisle and pop into the produce section at your grocery store for the good stuff. Fresh herbs, like basil and rosemary, are more aromatic and integrate really well when infused in syrups or muddled into drinks with fresh citrus like the Gin Basil Smash. Sticking to fresh over dried may be tougher with spices but, when you can, grating a cinnamon stick or chopping some ginger root goes a long way.
THINK IN SEASONS

Chefs and bartenders love to let the seasons inspire them. Home bartenders can do the same. Just like you probably want a vibrant strawberry and goat cheese salad in the summer (as opposed to chili, for example), you want your cocktails to match the vibe of the moment. For spring and summer, think leafy, refreshing herbs like cilantro, rosemary and basil. Come fall and winter, you can turn to cozier spices like clove, nutmeg or cinnamon. Take inspiration from complementary ingredients often used in culinary recipes and just have fun!
GET IT IN THERE

Of course, gathering the herbs and spices is only the beginning. You need a way to integrate the flavors into your cocktail. Let's go over a few of our favorite techniques to add herbs in cocktails.
Muddling: Muddling is the process of gently mashing ingredients like fruits, herbs and spices in a drink to enhance the complexity, aroma, flavor and texture. This simple technique helps to integrate the oils and juices from produce like berries, peppers and citrus as well as leafy herbs (like that mint in your mojito), but can also be used to introduce spices like fresh ginger or allspice berries.
For more on muddling, check out our video "How to Muddle"
Infused Syrups: Infusing syrups is another fun and simple way to play with new flavors. One easy and quick technique is to simmer the ingredients in a homemade syrup on the stove. This can be done with basic simple syrup (one part cane sugar to one part water) or using other sweeteners like honey or demerara sugar. Just add whatever flavor you want, such as vanilla beans or cinnamon sticks, to the pot and you're good to go.
Once again, you're in luck. We've got a video on making syrups too!
Garnish/Rim: Using herbs and spices to garnish or rim your cocktail not only makes it look great, but often adds a bonus pop of aroma and flavor. When garnishing with herbs like mint or basil, slap the leaves against your palm to release the oils and aromatics. And rims can go far beyond your standard salt. Chili powder. Smoked salts. Cinnamon sugar. Let your imagination run wild!
And…you guessed it. We've got a garnishing video as well.
NOW THAT'S SPICY

Ingredients like chili, jalapeño and wasabi have dug out a nice little niche for themselves, bringing welcome heat to many a cocktail menu. Capsaicin, the stuff that makes spicy food hot, mixes surprisingly well with citrus and sweet. The combination creates delicious, full-bodied, yet delicately balanced libations.
Some Cocktail Mixology experts go as far as rimming the glass with dried chilies, Szechuan peppercorns, cumin, salt and other exotic flavorings. Others muddle hot peppers or infuse them in syrups. However you introduce the spice, tequila and mezcal are definitely your friends when it comes to working with these ingredients (hello spicy margaritas ), though there's plenty of room for playing around with your spirit of choice. If you think you can handle it, turn up the heat!
START SMALL

Spices can pack a punch of flavor. A little bit goes a long way. Remember that you can always add more of an ingredient in. You can't take it out. As you start working with these flavors, slowly increase the amount of whatever spice you're using, building the flavor until you get it right.
FINE-MESH STRAINING

Using herbs and spices in a shaken cocktail can create small bits of ingredients that are not desired in the final drink. This is when a fine mesh strainer comes in handy. Simply strain the cocktail using your preferred Hawthorne or Julep strainer, holding it over the fine mesh strainer so that the liquid flows through both. This is referred to as a "double strain" or "fine strain."