All About Flavor
Spice it up: Mixing Cocktails with Herbs & Spices
Everyone who loves cocktails knows how mint lends a delicious fresh flavor to a Mojito when gingerly muddled, or nestled as a garnish on top. But have you ever thought of using ingredients like thyme or rosemary in your drinks? Adding herbs and spices to cocktails is the simplest way to experiment with flavors, impress your guests and introduce them to an extraordinary cocktail experience. Incorporating herbs and spices into your cocktail recipes is the mark of a true cocktail aficionado. These few tips will help get you started. Spice it up!
FRESHNESS COUNTS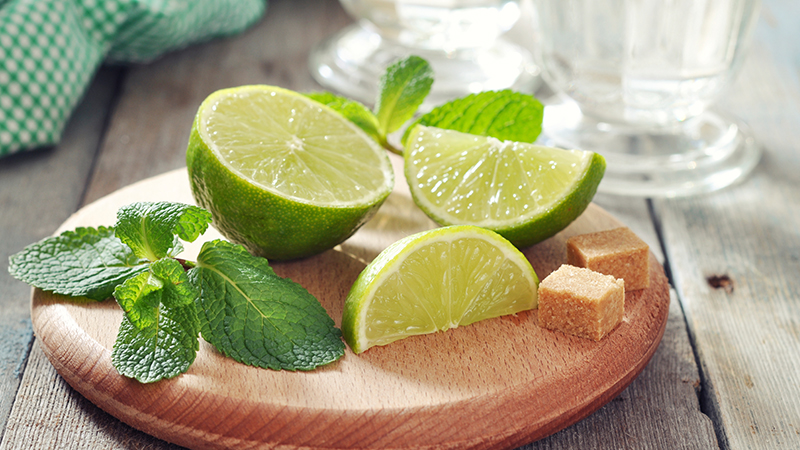 Many supermarkets now have large fresh sections offering a variety of herb and spice options. Before your next gathering, take a trip to your favorite market and pick up fresh mixing ingredients. Store all fresh ingredients, including herbs, in the refrigerator until you're ready to use them. Try to avoid using dried or pre-ground spices, as fresh is more flavorful and aromatic – two elements you want in every cocktail.
LET THE SPICES INSPIRE

When trying new ways to spice up cocktails, look to the kitchen. Chefs change up their menus to take advantage of which herbs and spices are in season. You can do the same; look to heavier spices for your fall and winter drinks (cloves, nutmeg, cinnamon), and leafier refreshing herbs (mint, basil, rosemary) in spring and summer concoctions. Take your lead from complementary ingredients used in recipes and just have fun. Thyme, sage, even cilantro, lavender and fresh teas can add a hint of decadent elegance to every cocktail you serve.
GET IT IN THERE

Spices as garnish are great, but you want their oils and juices incorporated into the drink. Dropping a cinnamon stick in a cocktail will work, but grating it over the drink will attract attention and create amazing presentation, so think about using a grater. For herbs and fresh juice cocktails, a muddler is perfect, and a handheld fruit press works equally well for garlic (for garlic stuffed olives in the Garlic Martini) as it does with lemons.
FINE-MESH STRAINING

When adding herbs and spices, Hawthorne and Julep strainers are great for straining out large stuff, like ice cubes and herb leaves. But once you start muddling, tiny bits of pulp and herbs will be left in the drink. A fine-mesh strainer should be used to remove these. Once the drink is mixed, simply pour the contents though the strainer into the serving glass and you're practically guaranteed a silky smooth drink.
START SMALL

Spices pack a punch of flavor so a little bit goes a long way. Any good chef will tell you that tasting is part of the job. Bartending is no different. When coming up with a new concoction, add a pinch at a time. If it needs more, increase the amount on your next drink, not the one you just made.
NOW THAT'S SPICY

Ingredients like chili, jalapeno and wasabi have become one of the hottest trends in spicy cocktails. Capsaicin, the stuff that makes spicy food 'hot', mixes surprisingly well with citrus and sweet. The combination creates delicious, full-bodied, yet delicately balanced libations. Some mixologists go as far as rimming the glass with dried chilies, Szechuan peppercorns, cumin, salt and other exotic flavorings. Tequila is great with cilantro and jalapeno, so if you think you can handle it, try turning up the heat.